ICMIZER 3 is here! And we're celebrating with a Special Launch Offer.
ICMIZER 2 launched in September 2015, and after almost 4 years of very intense work the highly anticipated update—ICMIZER 3 is finally here and ready to help you get to the next poker level!
What's New
AUTOMATED HAND ANALYSIS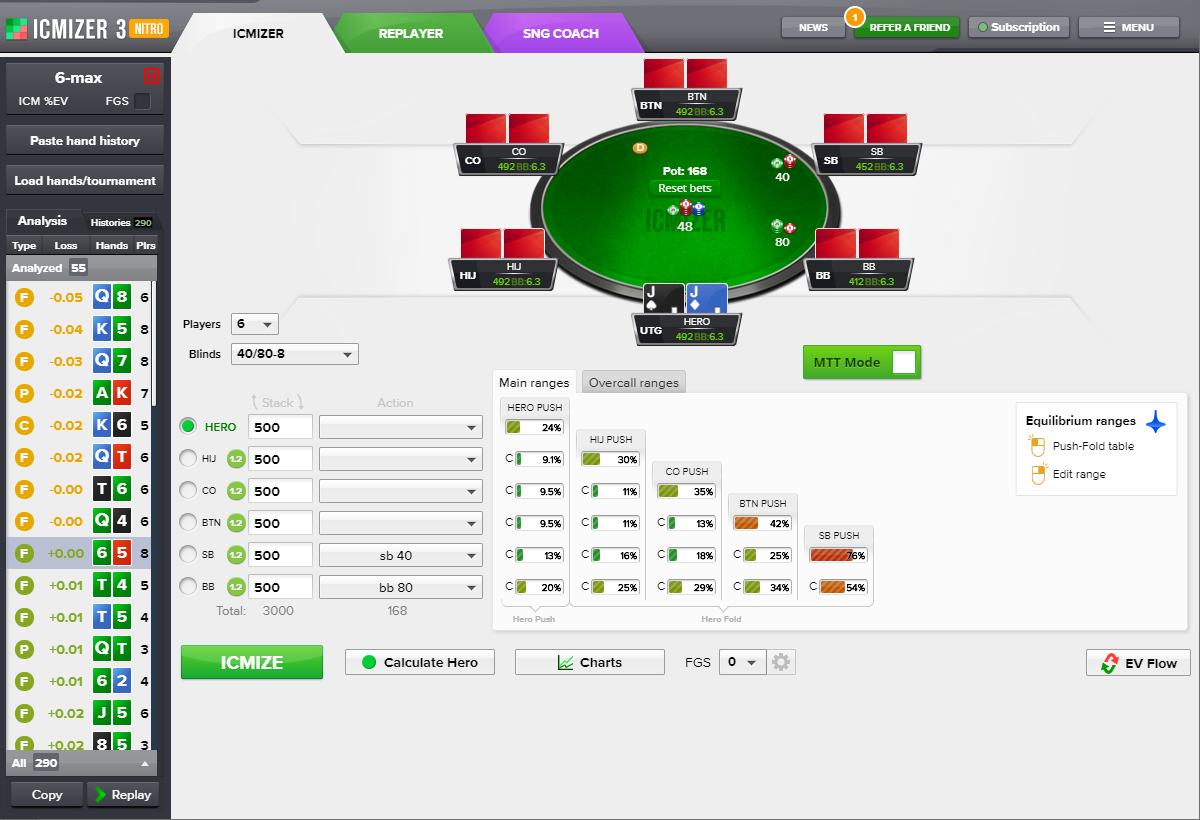 Meet the most anticipated feature of ICMIZER 3—automated hand analysis. Grab a hand history file, load it in ICMIZER 3, and we will quickly analyze your hands and point out the costliest mistakes. You spend less time training while improving your game faster than ever before.
Available with ICMIZER 3 Basic subscriptions or better.
ONE BUTTON AWAY FROM THE GTO PLAY
ICMIZER 3 introduces a new powerful and easy-to-use user interface. Enter the tournament situation and then just click the big new ICMIZE button to learn the perfect push-fold strategy which takes all tournament variables into account.
CFR+ NASH EQUILIBRIUM & HAND WEIGHTS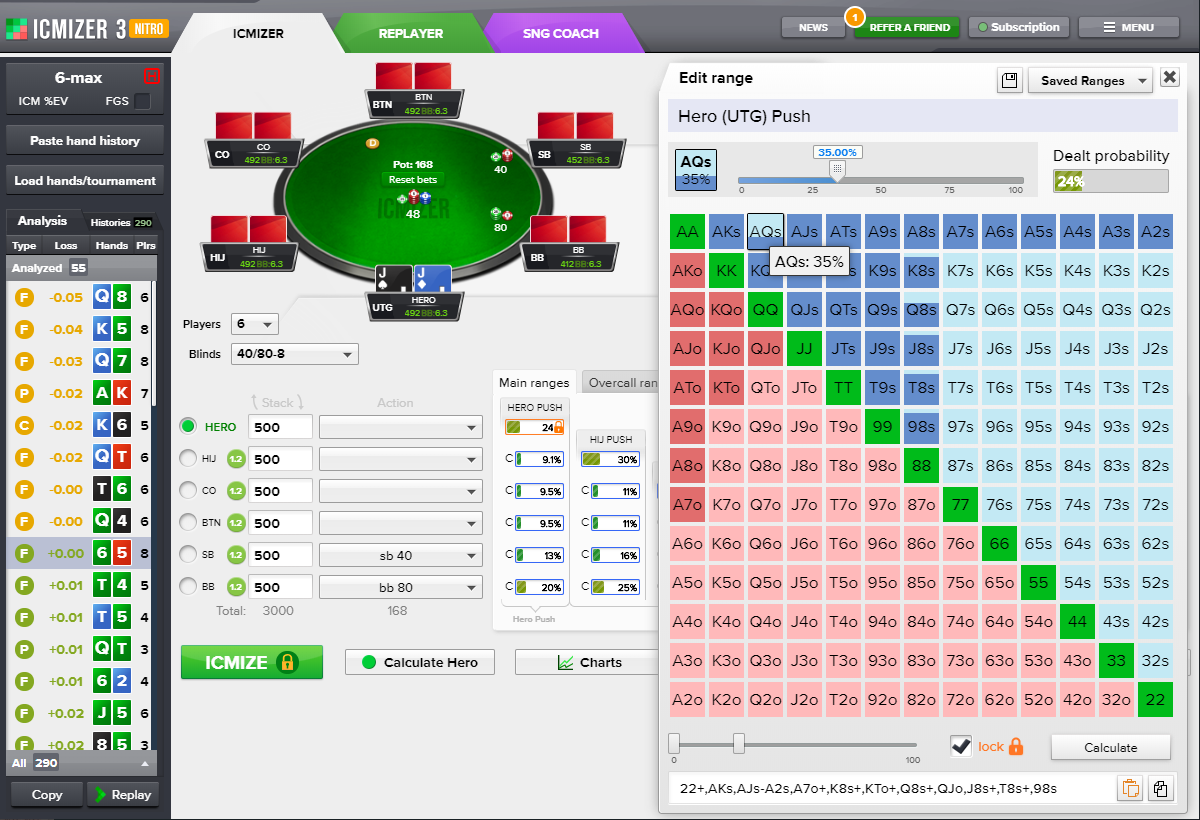 Now you can assign specific weights to each hand in a range. ICMIZER 3 calculates Nash equilibrium solutions with mixed strategies based on the new precise CFR+ algorithm—which further enhances calculation accuracy. Right-click on the range to see the new range editor.
ICM CALCULATIONS IN MTT TOURNAMENTS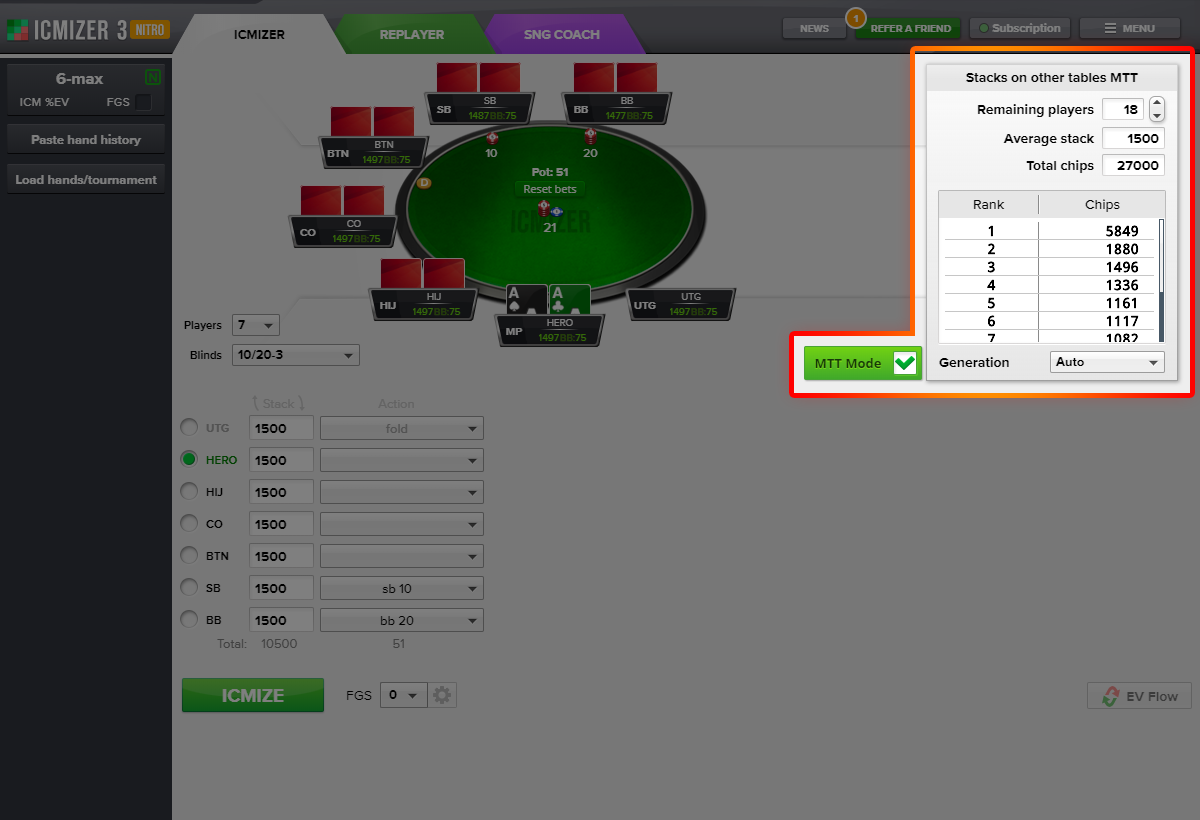 Quickly perform ICM calculations even before the final table in MTT with up to 500 players remaining instead of imprecise ChipEV calculations.
This is very important, a lot of players don't realize that if when they continue using ChipEV calculations they leave money at the table. The MTT mode limit has been raised from 100 in ICMIZER 2 to 500 in ICMIZER 3!
NEW SNG COACH LOOK & FULLY CUSTOMIZEABLE TRAINING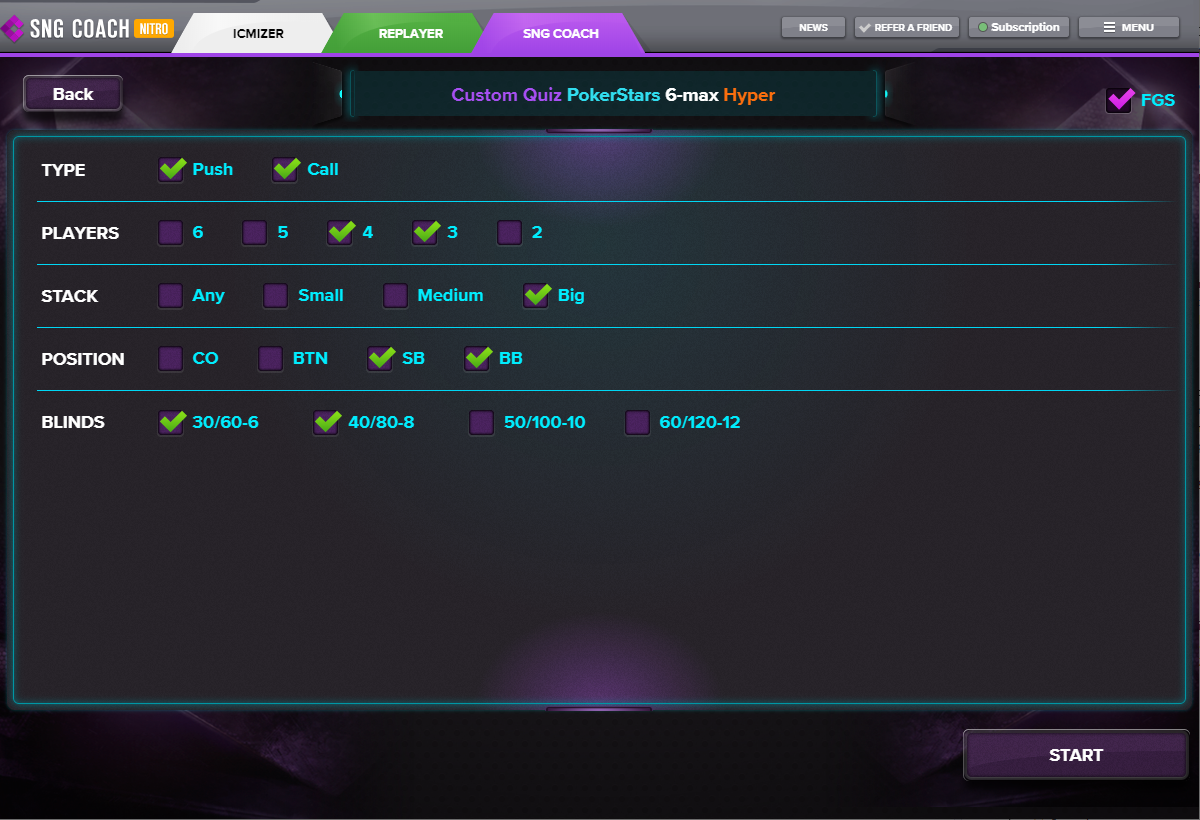 We've refined the SNG Coach experience so it is even more fun.
ICMIZER 3 release also adds detailed SNG Coach training settings including blind level, positions, number of players at the table for all available tournament types!
AND MUCH MORE!
You can learn more details in this article: ICMIZER 3 Features
And in this video tutorial: ICMIZER 3 Video Tutorial for ICMIZER 2 Users
How to upgrade from ICMIZER 2?
We love our loyal customers and want them all to be using the best possible version of ICMIZER.
We are making an unprecedented offer—to upgrade to ICMIZER 3 you just need to ONLY pay the difference for the remaining period of your currently active ICMIZER 2 subscription.
So if you just bought ICMIZER 2 recently you only pay the difference in tariffs.
If on the other hand, your subscription expires soon, then it will be just a few dollars for the upgrade.
The launch Special—15% OFF ICMIZER 3 PRO Yearly Subscription
The offer is valid until September 30, 2019. Get a Yearly ICMIZER 3 PRO subscription just for 152.99$ (instead of 179.99$).
If you already have an ICMIZER 2 subscription and want to take advantage of this offer and extend your subscription for another year, we have you covered.
Follow these steps:
Upgrade to ICMIZER 3: Launch ICMIZER and click the upgrade to ICMIZER 3 button (located on the Subscription page).
Purchase the new license key for ICMIZER 3 PRO Yearly and activate it on top of your ICMIZER 3 subscription in the special launch promo window (on Subscription page). Your subscription will be extended for another year of ICMIZER 3 PRO with a nice 15% discount.
New to ICMIZER 3? Get it now! We've got you covered.
If you have never purchased the ICMIZER subscription before, what are you waiting for?
Grab it now! And remember, we offer a 100% Money Back Guarantee which covers this Special Offer. During the first month after the first purchase so if for any reasons you decide that ICMIZER 3 is not good for you, you get a full return.
Head to the purchase page to learn more about available subscription options:
https://www.icmpoker.com/en/purchase/